You don't like where you are, move, you're not a tree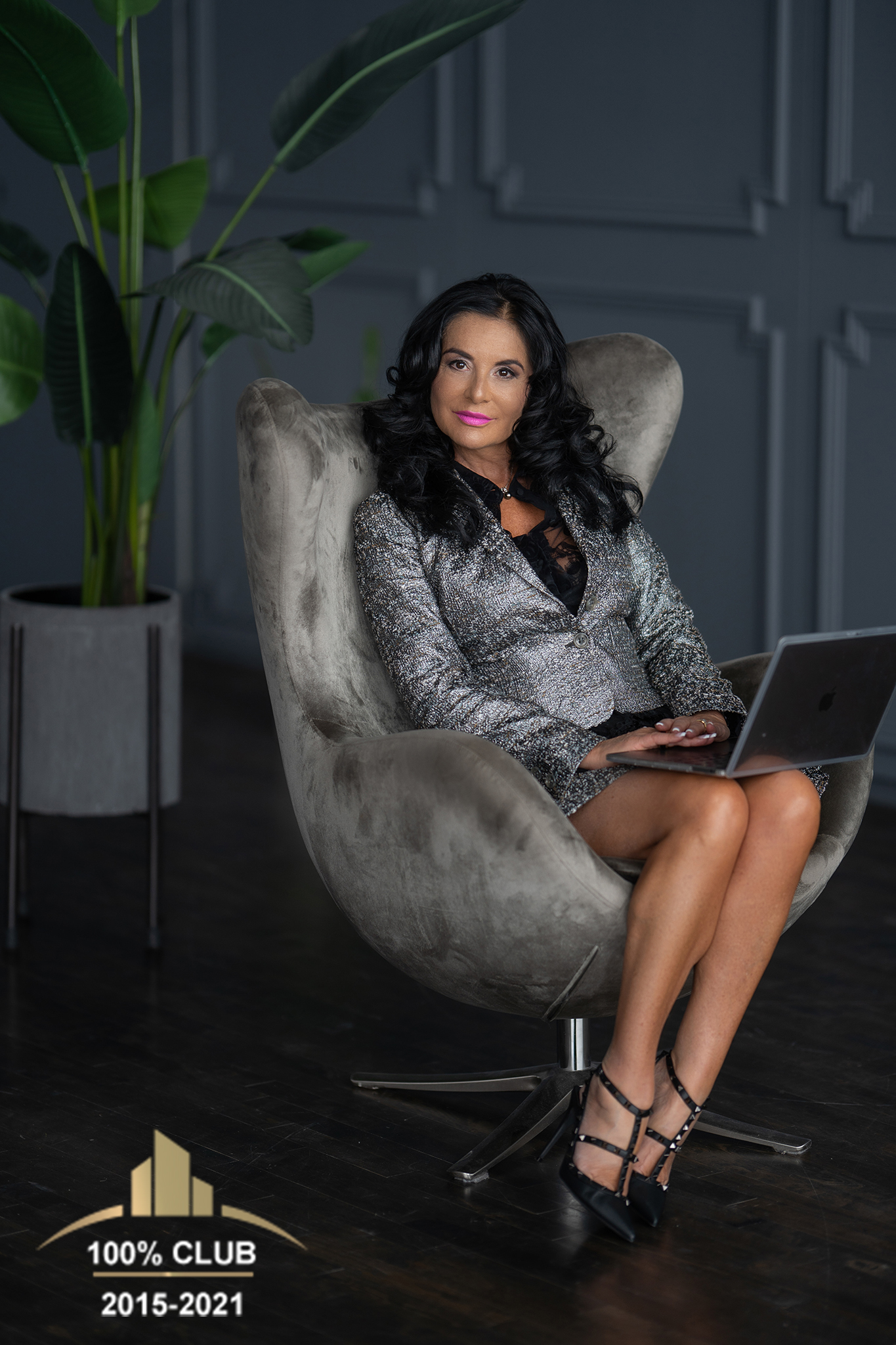 I'm Bess Assimacopoulos-Markou, Real Estate Sales Representative Since 1985. I am of Greek heritage and proud of it! The land and cradle of civilization. When I started real estate sales back in the day there was only one fax to share with all the salespeople and one computer in our office that would provide us with the daily hot sheet at noon everyday!

I owe it all to my mentor, my Father Gregory Assimacopoulos. His guidance and perfection in ethical conduct was the best advice anyone could have shared with me. My Father's knowledge, negotiating skills and determination to survive in what was a very challenging and at the same time rewarding career.
My hero, my Mother Kalliroe, or better know as, Kally. The matriarch of our family. She was a very intelligent woman. She radiated with class. A strong spiritual person with a great compassion for others. A wonderful educator. A natural when it came to sharing and expressing her thoughts. Religion, politics philosophy, ancient Greek history and mythology were of her many passions. She had high expectations for herself those around her. She loved cooking for family gatherings and made the best almond cookies! A woman of great etiquette.
I've been married to my husband John Markou since 1993 and our claim to fame is our wonderful son, Gregory!

Fantastic to Work With
"Bess was fantastic to work with! She is very professional, knowledgeable, and personable. I truly appreciated her advice on every aspect of our home sale. From preparing to sell right through to closing she was invaluable and easy to work with. Without her help we surely would not have done as well or enjoyed the process. I can't recommend her highly enough. You won't be disappointed with her help!"
The Perfect Home
"We were fortunate to be given Bess as an agent by UW. What a fantastic job she did at quickly finding us the perfect home for the right price! Now we are very happy to have her as a neighbour. Thank you Bess!
4 Real Estate Transactions
"Bess has assisted my family with 4 real estate transactions over the past many years. What I respect most about Bess is how she connected with each member of the family. During this time, which can be stressful, Bess always made sure that everyone was "fine" and most importantly everyone was having fun. Bess always asks about my family, "how are they doing? what are they up to?" When I mention Bess's name to my now grown children, they remember Bess's kindness and they think of Bess as part of the family."
Above and Beyond
"Bess went above and beyond when I decided to purchase my first home. She kept me updated on the market, showed me a number of properties, and finally, negotiated a fair price. She made the entire transaction painless for me. Bess is energetic and fun to work with, all the while being a true professional."
In the Right Hands
"We are more than a little bit in awe of Bess. Finding ourselves in the unenviable position of having to sell the family home to support our parents in their retirement, we approached the market with trepidation and heavy hearts. We knew that we were in the right hands from her initial meeting with our parents, and throughout the process Bess provided the perfect mix of compassion and patience together with professionalism and drive. We appreciated her research, explanations, and suggested approach to valuing the property relative to the market. Her guidance on prepping the tired look of the house was invaluable; we are convinced that her vision and advice resulted in us very quickly finding a buyer and maximizing the sale price. We are so very grateful to have had her on this journey. Thanks Bess !"
Bess is the Consummate Professionals
"Bess is the consummate professional, who knows her market very well. We have used Bess as our agent, buying and selling real estate for over 30 years. She knows the market, listens very well and is a tough negotiator. We have been thrilled with the results and would highly recommend her."
Expertise and Knowledge of the Market was Exceptional
Expertise and Knowledge of the "Bess worked quickly for us which is important in a fast-moving local market. Her expertise and knowledge of the market was exceptional. Through the whole process, Bess handled everything with ease. She communicated the important information that was necessary and took care of the rest. We would highly recommend Bess to assist when selling or buying a property, we especially appreciated her openness and honesty throughout this process."
Can't Imagine Using Anyone Else
"I've known Bess for over 40 years, and over that time she has become one of my dearest friends. But that isn't the reason why I choose her to be my real estate agent. Buying or selling a home is one of the most important purchases of your life and you need an agent who is kind, smart, confident, flexible and a tough negotiator. Bess shows all of these qualities in abundance and that's why she is my agent. She has handled all of my real estate transactions and I will continue to use her as long as she is working. Her eye for detail is simply unmatched and I couldn't imagine buying a property without Bess' expertise and advice."
Extremely Knowledgeable
"You absolutely want Bess on your team when you're looking to buy or sell your house. She is extremely knowledgeable about the K-W area and beyond. Her professionalism and years of expertise make her an invaluable resource."
Everything You Want in a Realtor
"I would recommend Bess without any hesitation. She is everything you want in a realtor; well connected, knowledgeable and professional. My husband and I have worked with her many times over the last 30 years. She is on top of every detail big or small. There is an ease about the way in which she conducts herself amidst all the stress that comes with negotiating such a personal and important transaction. We will definitely be dealing with her in our future real estate endeavours."
Bess is Outstanding
"When we decided to move abroad, we knew we would be in excellent hands with Bess as our agent. We've been friends with Bess for over ten years and were always impressed by her attention to detail, professionalism and knowledge of the industry. Bess made the entire experience of leasing our home stress-free. We were incredibly impressed by her expert knowledge, sound advice and professional process. She did a fabulous job of showcasing our home online and found ideal leasers immediately. The entire process has been seamless, even with us living thousands of miles away. If you are looking for a truly qualified agent who goes above and beyond for her clients, we would highly recommend Bess!"
A Compassionate Expert
"A compassionate expert, Bess made my first-time home buying experience lovely, fun, exciting and stress-free. Bess is extremely skilled at navigating the home buying process, ensuring my best interests were considered every step of the way. I don't know how I would have done this without her! Thanks Bess "
Guide You Through the Right Path
"I couldn'd do it without her help! bess is a person who will guide you to the right path.She cares and listens to your needs and likes and works very proffesional to satisfy her client. Very pleasant to work with . Bess helped me to sell and buy my new home and have no hesitations to recommend her .It was a pleasure dealing with her. Thanks Bess! You are the best."
Extensive Knowledge
"Our family will always retain Bess to help us buy and sell our homes. She is a consummate professional with years of experience and expertise. Her extensive knowledge base and positive attitude make her a pleasure to work with. We would highly recommend her to anyone. Robert and Leslie Huber"
Integrity, Honesty
"Integrity, honesty and an uncanny knack to know exactly what you want and need . She starts out as a realtor but before you know it, you become a friend. My next move will be handled by Bess . I'm in good hands"
Helped Buy Our Forever Home
"Without Aunt Bess our forever home would have never been possible. Not only did she help buy our first home in Waterdown (which we loved) she helped buy our forever home in Flamborough. With her knowledge and professionalism we sold our house in less then a week and over asking! When looking for our next home we had a large must have list and a lot of questions. Aunt Bess was always available, left no questions unanswered and found the house of our dreams. She made purchasing our forever home fast, easy and comfortable. We put our complete trust in her and couldn't be happier. All thanks to my Aunt. Xo"
Knowledgeable and Positive
"I known and worked with Bess both with my Mother and myself. I find her knowledgeable and positive and extremely capable of the job she does. I have always been extremely pleased by the results that Bess has gotten for me and I very much appreciate having her as my realtor. I would have no hesitation in recommending her to anyone. Thanks Bess."
Professional, Positive, Ethical, Wonderful Educator
"Where do I start! I've been working with Bess for over 10 years. She's been nothing but professional, positive, ethical and a wonderful educator. She's taught me so much about real-estate and helped me grow my portfolio 10X. I don't know where I would be without her! Thanks Bess. I owe you!"
Came Through with Flying Colours
"We looked to Bess to sell our family home, purchase our next dream home AND sell our condo and she came through with flying colors on all counts! She listened to what we wanted, was very knowledgeable and gave us invaluable suggestions. She works hard for each of her clients equally and makes you feel like she has your best interest at heart. She is one of a kind!"
Bess is a Closer
"Bess is a closer. If you want your house bought or sold for the right price she will make it happen. In addition to knowing her business she is great to work with and exudes positive energy and good vibes."
Bess is the Best!
"I purchased my commercial building from Bess and John and it has been a successful venture. I reside in Toronto. Bess and John have stood behind me, ensuring my property has been fully leased and maintained. I thank you for your assistance and promptness to ensure my investment has reached it's full potential. Thanks for having my back!"
We Love Dealing with Her
"Our family has used Bess on multiple occasions to buy or sell our homes since 1996 and we are again looking to buy a new home. She is helping us to find our next home again. We love dealing with her because she makes this experience so easy. If you are looking for the best real estate agent in the area, I guess you found her."
All Deadlines were Met with Wiggle Room
"We used Bess to sell our house and buy our new house in Guelph. I thought the distance would be an issue. I was happily wrong. It was painless and efficient. All deadlines were met with wiggle room to take a breath. I have no problem recommending Bess. Thank you Bess 😊"
Very Knowledgeable and Professional
"Our family has used Bess on multiple occasions to buy or sell our homes since 1996 and we are again looking to buy a new home. She is helping us to find our next home again. We love dealing with her because she makes this experience so easy. If you are looking for the best real estate agent in the area, I guess you found her."
Customer Centric and Ethical
"I have known Bess for over twenty years. In all of my interactions with Bess I have found her to be incredibly customer centric and ethical. She gets things done and is definitely someone you want on your team."
Bess Knows the Market
"I have purchased three luxury properties in yorkville with Bess. Bess knows the market and where it is going years ahead. Honest, knowledgeable, trustworthy, and so easy to deal with. Look forward to many more deals with Bess in the near future"
Dedication, Honesty, and Great Taste
"Dedication, honesty and great taste. … my business involvement with Bess now spans over 30 years. I have dealt with her in property sales, rentals, renovations and new construction. Obviously our business relationship has been excellent or we would not still be involved in business as well as the best of friends. I've always been impressed with her abilities to deal with clients and employees with such a positive attitude. We have completed numerous projects over the years and her sense of professionalism and visual taste has been a huge part of our success and quick completions. I always look forward to working with her."
Knowledgable, Realiable, and Thorough
"Well-informed, personable and professional, Bess will always go the extra mile to ensure that as her client, your needs will be met and expectations surpassed. Bess deals with others with warmth and respect. It is precisely due to these attributes that whenever I have questions about real estate, I can count on her to provide accurate and up-to-date information and guidance. She was our agent when we purchased our present home, many years ago, and it is without hesitation that Bess would be the person we will call now if and when we decide to purchase a new home or sell our property."
Born to be an Agent
"Bess was born to be an agent which explains her years & experience in her business. She has looked after both renting out and selling a home for me here in the twin cities. She was knowledgeable and helpful before, during and after both of these services. She knows this business inside out, as well as her clients and most importantly her final purpose. These are qualities I've come to expect in an agent thanks to Bess !"
Exclusive Agent for Many Years
"Bess has been my exclusive agent for many years now. I have complete confidence in her as she always goes the extra mile to make sure that everything goes smoothly with the transaction. She is a tough negotiator and is extremely intuitive allowing her to fully understand the situation at hand. These abilities allow her to always be a step ahead of her competition. In addition to all of that Bess has a keen sense of style and vision which really comes in handy when properties need renovations or updating. I've listened to her advice many times with great success. In my opinion, Bess, is one of the premier agents in the region and I would always recommend her to anyone looking for an agent. I couldn't imagine dealing with anyone else!"
Outstanding Agent
"Bess is an outstanding agent to work with. She is a skilled listener with an in-depth knowledge of the local market. We listed our family home of 25 years with her. She made an emotional decision so much easier with her kindness, expertise and efficiency throughout the entire process. Our home sold above asking in 2 days – amazing! Bess keeps her client's best interests in sharp focus and you can always trust that she is on every detail, big or small, which brings great peace of mind to any real estate transaction. Highly recommend – you will not be disappointed!"
Professionalsm, Knowledge, and Commitment
"Bess sold us our first home nearly 30 years ago. She carefully held our hand and helped us navigate the vulnerable process of becoming first time home buyers. Her professionalism, knowledge and commitment made the experience completely seamless. We would confidently recommend Bess."
Loyalty Love & Service
"I have known Bess throughout my career in Real Estate. She has managed our residential portfolio of properties and more often than not, exceeds our expectations. I challenge you to align yourself with a more loyal, honest, straight shooting agent. Her confidence and market knowledge is remarkable and clearly obvious. Bess works hard to please her clients and has never failed to close a deal in hand. Truly one of kind in our industry! Thanks for all of your personal effort Bess!"
Wonderful to Work With!
"Bess is wonderful to work with! We have had 4 different transactions with her. She helps with ideas for simple spruce ups, ideas for decorating, and even came around with dinner and treats during the renos! She was professional, and fun to work with and takes no nonsense from the other side! I would not hesitate to recommend Bess !"
Thrilled with Bess
"We are thrilled with Bess' professionalism and her heartfelt expertise she gave to us to sell our home. Not only did she sell it over list price in less than 7 days. She happily hosted open houses, along with a spectacular feature sheet. She also helped us find our dream home and we are thrilled with the entire transaction.. We highly reccomend Bess when selling and buying your home. We couldn't be happier with her!"